The Story of Arkworld - 'Company History'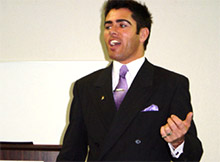 Arkworld began with the story of one man, President & Founder Mark Landon and a discovery that won the Nobel Prize in Medicine concerning a gas molecule called Nitric Oxide. Whilst learning of this revolutionary discovery and helping another company in America to expand and create more leadership Mark suffered a personal tragedy in his family that gave him a burning desire and life long passion to help people improve their health, safely and effectively through good nutrition.
Along with losing several other family members due to diet related health problems, Mark watched his father struggle with poor health for years that eventually took his life.
As a result of this tragedy and having been let down by other companies that promised so much and delivered so little, Mark decided to create the best and most innovative company in the world and to dedicate his life to helping people obtain good health and nutrition so that they wouldn't have to suffer in the same way as his Dad and other members of his family had.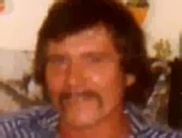 In the past before Arkworld started and going through the tragedy of losing his father, Mark had been involved in two different companies and quickly became one of the top distributors in both of these companies. However, both companies failed to fulfill their ethical commitments to their distributors which left Mark disappointed. To fulfill his dream and to build a company that not only put distributors first with honesty and integrity, but would deliver the finest quality life changing products in the world and the best business opportunity in the industry, Mark knew that the only way to succeed in his goal was to do it himself.
With a burning desire to help people, Mark went to work on creating a product line, business opportunity and a company that would change the course of history.
Nobel Prize Winning Discovery!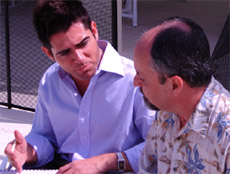 The Arkworld dream really began when Mark took a trip to a Medical Convention in Las Vegas, USA, where he came across one of the most revolutionary new discoveries in the health industry to date. Mark learned of an incredible Nobel Prize winning discovery that was won in 1998 by 3 eminent Doctors, for their work concerning a Gas Molecule called Nitric Oxide and the role it plays in the Cardiovascular System. It had also been shown that Arginine (an amino acid found in certain foods) is used by the body to produce Nitric Oxide naturally. The term for this is ADNO, or Arginine Derived Nitric Oxide.
It was with this discovery that gave Mark an incredible idea that would help him to realize his dream and to develop the first Arkworld products.
Arkworld's Founding Philosophy:
To take better health and prosperity around the world, whilst changing the face of the industry!

Marks goal was to design the best and most scientifically advanced products money could buy and to build a company that would not only help people with their health, but would provide the best business opportunity in the world within the industry, whilst always putting the distributors and their businesses first.
Whilst at a meeting in Missoula, Montana, USA, Mark got the breakthrough he was looking for, when he met up with Dr Jeff Golini PhD. a leading developer and manufacturer of nutritional products for over 25 years at that point. Impressed with his expertise, enthusiasm and commitment, Mark posed the question...
"If you can design me the best products money can buy, I will be the first distributor in the company and take it completely around the entire world"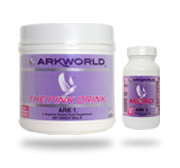 The First Arkworld Products were created!
After putting together the Arkworld Scientific Advisory Board and Research Development Team Mark developed the original Arkworld products to create, arguably the most innovative and effective health products that had ever been created. Combining the science of Arginine Derived Nitric Oxide (ADNO) with the exclusive Micro Nutrition targeted at absorption, cellular healing and repair, the first Arkworld products were created consisting of Ark 1 - The Pink Drink and Ark 2 – Micro as it is now known.
However, this was only the beginning as more cutting edge discoveries and pioneering products were to come in the future with Ark 3 - X-Cell (The Purple Pill) and the new ShipShape Weight Control Product Line consisting of Ark 4 – Super Ark Food (The ShipShape Shake) and Ark 5 – Inferno (The Fat Antagonizer).
After much research, testing and development, raising over £400,000 ($700,000) and with an incredible amount of hard work, dedication and commitment to his cause, Mark finally began the company on May 1st 2005 in the United Kingdom and started as the first distributor in the company.
The dream was born – Arkworld founded in 2005.
As the first distributor in the company Mark started to sell the products talking to people on the street, passing out flyers, running local adverts and holding 3 meetings a week, from a small office above a pizza parlor in the small town of Brighton, UK. This was all before the world had such things as social media to use as a tool to network and create new relationships. However, despite great adversity and against all the odds, Mark kept talking to people night and day with great passion, total belief and blind faith in what he was doing. He knew that he had something very special on his hands!
Record Breaking Sales in the first month!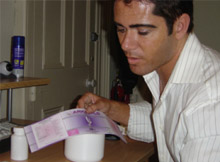 With handmade labels that he glued on the product himself every night, no product or income testimonials, no marketing tools or website and going against any rule of starting a business that ever existed, Mark started to build his distributorship.
With 21 customers and 92 people in his group (including 31 personally sponsored distributors and 29 Executives), by the end of his first month sales exceeded a record breaking $46,000 in wholesale sales volume or $76,000 in retail sales.
'An industry record for one person to accomplish that will probably never be beaten!'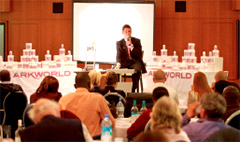 Whilst also running the office, sales dept and warehouse with no real staff to speak of Mark kept talking to lots of people consistently every single night and day and managed to build his team to over 4000 people in the company in 7 months sponsoring 201 distributors himself. An incredible effort!
To help his distributors to be able to take the message out to others and make the business of retailing and recruiting fun, simple and magical, Mark created a simple 4 Step Success Training System called Who, What, When, Where that he started to teach in meetings and training classes including the first leadership Weekend in Orlando Florida of that year. As the company started to grow and the incredible product and income success stories started to flood in, Mark also developed the first company tools consisting of badges, brochures, marketing manuals and finally the first Arkworld Website was launched.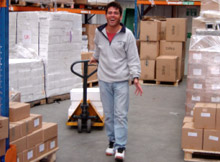 Against all the odds, customer by customer and distributor by distributor, Mark was able to take the company to over $1 Million dollars in sales by the end of the first year. As the momentum started to grow and more and more people joined the company and felt the power of the products, sales soon went to $3 Million and then over $5 Million by the third year!
Remarkable when you consider that Mark started out all on his own with no financial support and not much encouragement from others; in fact, most people said it couldn't be done and that it wouldn't last. Just goes to show if you believe in something enough and you are willing to see it through no matter what, opinions of others count for nothing! A lesson to us all!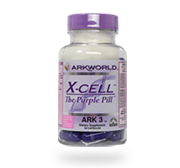 Ark 3 - X-Cell (The Purple Pill) Launched...
To celebrate Arkworld's incredible success, in its fourth year, the company brought out the next pioneering double patented product called X-Cell (The Purple Pill). This product targeting the 3 A's of Healing (Anti-Aging, Anti Infammatory and Alkalising) was another world first by Arkworld and as sales went through the roof, incredible results started pouring into the company. 'The Youth Pill' as it's nicknamed has been a phenomenal addition to the Arkworld product line and is still today the only product of its kind. A miracle of modern science!
We've only just begun!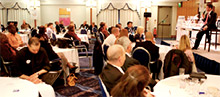 As Sales in the company started to grow and people overseas wanted to get their hands on the Arkworld products, we also welcomed North America and Iceland to the Arkworld family. However, although Arkworld International is now officially in three countries, there are people in over 11 countries using the Arkworld products for personal use. Word is spreading and they just can't wait to get their hands on them and use them!
Therefore, as Arkworld now truly moves into phase 2 of its incredible journey and continues to grow, plans are very much underway for continued global expansion to fulfill Mark's goal of bringing better health and prosperity to people all over the world. Over the last decade since those humble beginnings when Mark started the company, Arkworld has been an incredible success story, with tens of thousands of people having their lives changed by using the Arkworld Products and many distributors going from strength to strength in building their Arkworld businesses. It has been a remarkable success story and we've only just begun!

ShipShape Weight Control Product Line Launched!
To now finally bring this incredible story up to date, Arkworld has finally launched the healthiest, most effective and scientifically advanced weight control product line that has ever been developed in the industry. Another dream of Mark Landons' that he had even before he started the company back in 2005.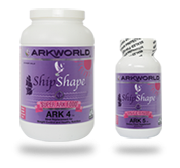 Seven years in the making the ShipShape Weight Control Product Line (consisting of Ark 4 - ShipShape Super Ark Food with its brand new patented science and protein (Enzymatic Hybrid Protein) that has a higher efficiency rate than any other protein on the market and the best Weight Control Meal Replacement on earth and Ark 5 – ShipShape Inferno (The Fat Antagonizer) with its patented magical fat burning ingredient that is a new fat discovery to the world), is set to take the industry by storm and rocket to the number one position in weight control and sport supplement products in the industry. The ShipShape global phenomenon has arrived!
Already, ShipShape stories flooding into the company from people who wanted to lose weight to athletes and bodybuilders looking to get that extra edge over the competition, have been incredible and it's only just begun!
Looking Forward - It's just the beginning!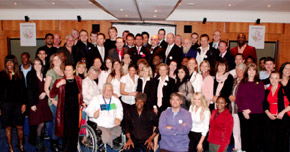 Now as Arkworld enters phase 2 of its incredible journey, the goal of becoming a billion dollar global company and household name that helps millions of people all over the world is becoming more and more a reality as each year passes from a humble dream that President & Founder Mark Landon had over a decade ago. With continued global expansion and with the added ShipShape Weight Control product line, it's clear that the best is yet to come which gives everyone today the best ground floor business opportunity in the world.
From the very beginning to the present day the Arkworld products have always been way ahead of the competition and way ahead of their time, helping tens of thousands of people to receive the most life changing health results that any products have ever produced. As other companies watch and wonder how we do it, the dream to help millions of people all over the world and help Mark to accomplish his goal continues.
From humble beginnings to the success of today, the unique Arkworld story goes on and remember... It's just the beginning!